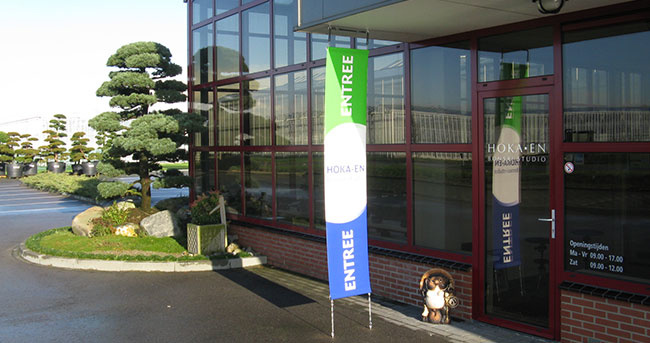 Hoka-En Bonsai Studio is a unit of Lodder Bonsai bv and is aimed at individual hobbyists. It is located in the same building as Lodder Bonsai and exhibitions are held here regularly.
Hoka-En Bonsai Studio originated in the mid-1980s with the Japanese bonsai master Hotsumi Terakawa who at the time was associated with Lodder Bonsai bv and Hanako Lodder. The idea was to make bonsai better known to a wider audience and to better assist the bonsai enthusiast with advice and service. Hoka-En Bonsai Studio is now an established name both nationally and internationally.
The studio is the most complete bonsai specialty store in the Netherlands and we offer a wide range of trees and products for your hobby. We believe that choosing a bonsai is a very personal experience and a visit to our nursery can be an inspiring experience. It is possible to come to the studio without an appointment as well as order products from the web shop. Hoka-En Bonsai studio can guide you in finding what interests you.